Running for Oregon House 23 (Newberg, Dundee, Dayton)
Bio
Anna was born and raised in Philomath just outside of town on Evergreen Road on a 20-acre farm.
Anna's husband Jason and his family own a farm just outside of Dallas. They have two children- a son who is a junior at Western Oregon University, and a daughter who is a junior in Amity High School.
Anna has served on the Polk County Fair Board, the Polk County Farm Bureau, the Oregon4-H Board of Trustees, the Perrydale School Board, both as an elected member and on the budget committee, as well as the local PTA and booster organizations. She is president of the Willamette Valley Oil Seed Producers Association, as well as a board member on the Pacific Northwest Canola Association and the US Canola Association.
Anna is the office manager for her family's farm and has served as a farm with the Oregon Aglink Adopt a Farmer Program.
Links
Campaign finance activity
Top Donors
$3000 Orloggers PAC
$3000 Laurel Field
$2500 Friends of Christine Drazan
$2000 AGC Committee for Action
$1002 Caleb Remington
$1001 Coelho Family Corporation
$1000 Koch Industries Business Insider article on Koch influence in politics
$1000 Altria
$1000 State Farm Federal PAC
$1000 Dentists of Oregon PAC
$1000 Farmers Direct Inc
$1000 Clean Energy for Oregon PAC
$1000 Charlotte Scharf
$1000 Kit Johnston
$1000 PNW PhRMA PAC
$1000 Oregon Manufactured Housing Political Support Committee
$1000 Berger International LLC Oregon Bankers PAC
$1000 Orloggers PAC
$1000 Professional Adjusters Interested In Democracy
$1000 Oregon Cattle PAC
$1000 Oregon Health Care Association PAC
$1000 Willamette Valley Vineyards
$1000 Union Pacific
$1000 Anheuser Busch
$1000 GK Machine Inc [former employer]
$1000 Timber Unity PAC
$1000 Larry Burger
$1000 Committee to Elect Daniel Bonham
Endorsements
Oregon Right to Life
Oregon Farm Bureau
Oregonians for Food & Shelter
Oregon Coalition of Police and Sheriffs
Oregon Taxpayers Association
Notable Legislative Votes
Full voting record.
News Coverage
Statesman Journal, Former legislative aide and lobbyist Anna Scharf appointed to Oregon House, July 6, 2021
Corvallis Advocate, Interview, October 21, 2021
Miscellaneous
Driving While Under the Influence arrest court record from her 20s. She completed the diversion program in 1991.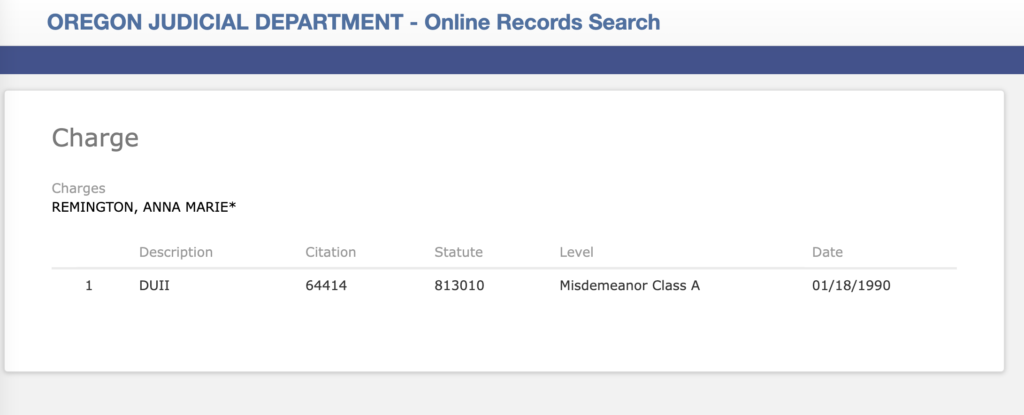 May 16, 2022 tweet on Starbucks decision to support uterus havers seeking abortion healthcare:
September 2020 FB post regarding Proud Boys & Patriot Prayer (since hidden/deleted)